Mark Graver – Bridge
Sound (NFS)
The sounds in Bridge were recorded under a different bridge in a different place at a different time then layered with street sounds from market day in my home town of St. Albans, UK.
The St. Albans bridge carries the railway over the London Road and I still remember the slightly nervous thrill of walking under it when a train went over and cars swept by.
Time fixed, or recorded, in a specific place, reproduced then re-presented stirs these memories and correspondences.
…The Last of What Has Passed, the First of That Which Comes…
Digital print on vinyl – $1,200.00

"In rivers, the water that you touch is the last of what has passed and the first of that which comes; so with present time" – Leonardo da Vinci
Part of an on-going series of prints and videos capturing, recording, reproducing and stilling the motion of water, in this case the Kerikeri River, to reflect on the notion of passing time.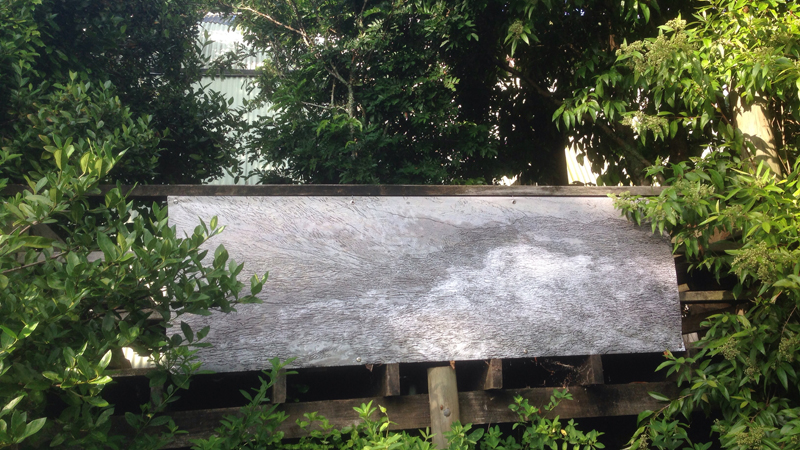 Mark Graver is an award winning artist printmaker, tutor and curator now based in Kerikeri New Zealand. He established the Wharepuke Print Studio, NZ's only dedicated Non-Toxic Printmaking workshop, in 2005 and, with Tania Booth, Art at Wharepuke Gallery 2009. He is author of the printmaking handbook Non-Toxic Printmaking (2011, London, A&C Black).
He has sat on printmaking selection panels in China, Bulgaria and NZ and curated international print projects in the UK and Australia such as Parallel Prints 2013/2015, Combinations, UK 2014 and RE:Print/RE:Present, UK 2015.
His work is held in many public collections around the world including the V&A Museum, London, The Ashmolean Museum, Oxford UK, the National Gallery of Taiwan, The Art Gallery of Ballarat, Australia, Tasmania Museum and Art Gallery, Hobart Australia, Guandong Museum of Art, China, Jinling Museum of Art, Nanjing, China, Penang State Art Gallery and CONARTE – Non Toxic Printmaking Museum Collection, Monterrey, Mexico.