Todd Sheridan – Ngā Rongo a Tāne (The Sounds of Tāne)
Ceramic, paint, Kauri, recycled native timber
Wharepuke Dalton Trust Artist in Residence 2018 Permanent Collection
Waka Whangai Manu, Pūrerehua and Mokomoko.
Traditionally bird traps (Waka Waituhi) were used to catch manu for food or pets. They were carved using native timber and often embellished with bird forms, or manaia at either end. Here the Waka Whangai Manu, is used as a bird feeder, somewhere for birds to drink and bathe.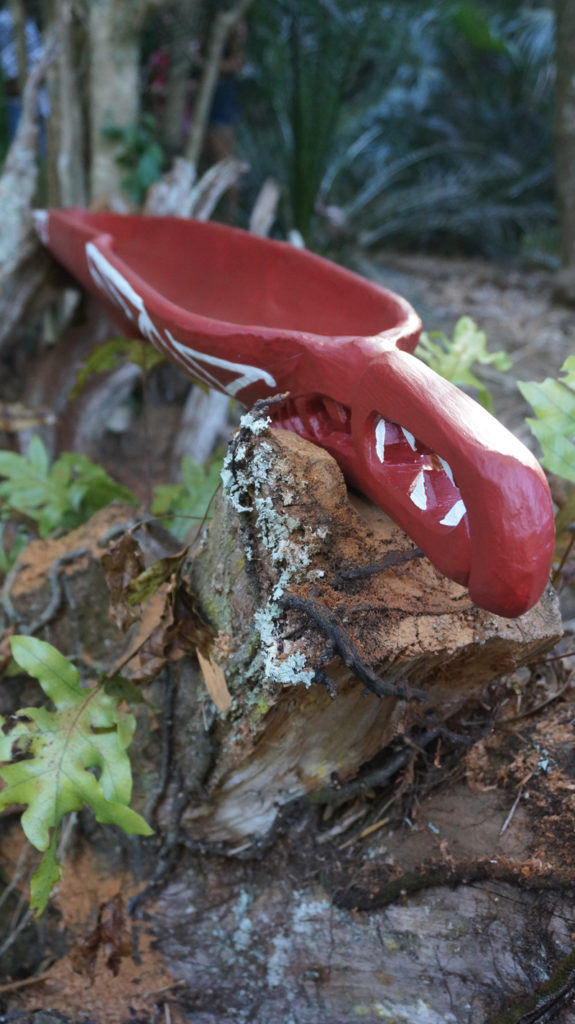 The pūrerehua is named after the case-moth. They were used during times of drought to summon Tāwhirimātea (Atua of weather and storms) to bring on rain tears of Ranginui (Sky Father) onto Papatuānuku (Earth Mother), to send incantations, dreams and words out into the universe and to coax insects from their hiding places, thus enticing birds to swoop down to be caught.
Mokomoko, or lizards, were feared by all due to their association with Whiro, the Atua of evil things. They are often seen on carvings associated with death or the underworld.
Mokomoko feed off insects; particularly butterfies and pūrerehua. The pūrerehua was used to entice lizards from their homes. This piece has been sculpted from an ancient kauri log gifted by Albie Hall from Ka-uri in Kaitaia.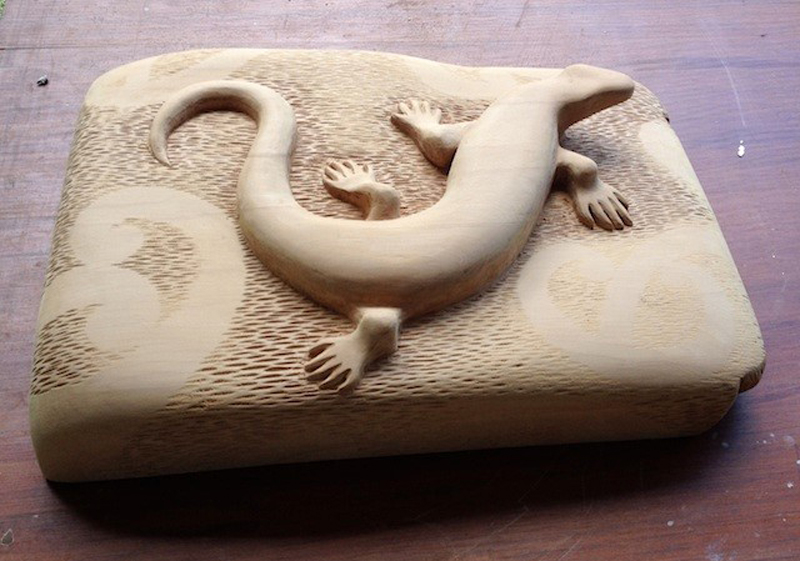 Ever so slowly the sounds of our native birds are fading. It's often a challenge to see any native birdlife at all. We need to intervene to help our unique bird species to survive. Ngā Rongo a Tāne has been created to entice and encourage our birdlife to bring their voice back into the sounds of the ngahere (bushlands).
Todd Sheridan
I have been extremely fortunate to be pursuing what I've always wanted to do since my early years. Both my parents were creative in their own way but they thought like many other parents of that era, and that was to finish school and find a job. So with experience at Borthwicks Meatworks and McKechnie Bro's Metal Foundry I realised that this was not for me so I headed off to Palmerston North Teachers College and studied Art and Maaori. Fast forward 30 years and those are still my favourite subjects. The last 10 years I've been working as a full-time artist and with various stints in education.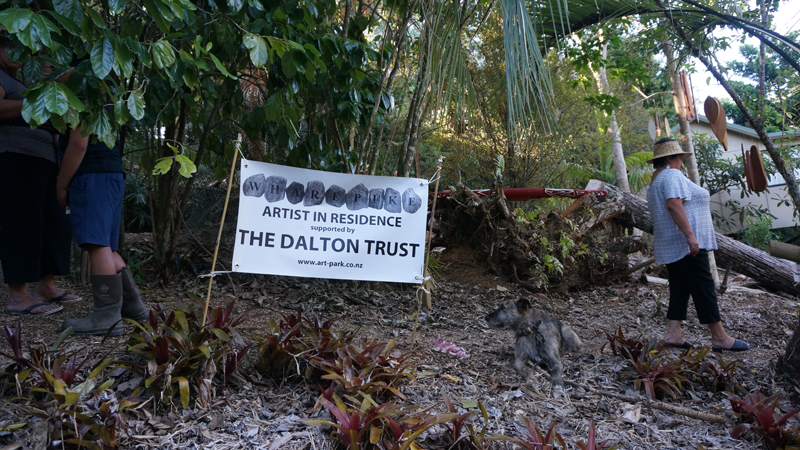 Much of my imagery comes from my earliest memories in and around Owae Marae, and later through studying other carved meeting houses or taonga in the various Museums. Bronze casting was one of the earliest sculptural media forms that I was exposed to during my years at Teachers College, and continues to hold a particular place of interest for me to this day. However, teaching duties kept the creative sector on hold and it wasn't until over 20 years later that I got to experience working with bronze again. This prompted me to reassess my direction and I decided to return to being a student and completed the Diploma in Creativity in 2010 with TLC and the Diploma in whakairo at TWoA in 2011.
Wood was the predominant media used during my training years and during this time I sought to explore using other sculptural media and came across glass casting. This allowed me to continue sculpting in wood but also cast these images into glass. Glass is a fascinating material to work with. It's always unpredictable how things will work out, or not, and that's what's special about it. I always look forward to experimenting with this media. It allows me to see a hidden realm that exists within our traditional carved images, sort of another dimension, and is quite alluring.
As a sculpture I am forever experimenting with other media. Clay is one of my favourites and I always enjoy seeing the results of something that really is at the mercy of the elements. I love the challenge, and find this aspect the most rewarding when things never turn out how you expected, but they produce something which is beyond your wildest dreams.